Sage Wainwright
Age
16
Existence
Real
Status
Alive
Alter Egos
Xander Wainwright
Nicknames
Sagie, Bubby
Family
Mother, Father(absent)
Friends
Joe Winko
Occupation
Unknown
Appearances
Joe Winko Livestreams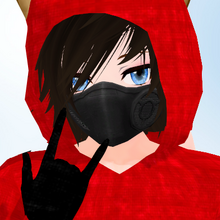 Sage Wainwright (AKA SPChannel, SPChannel Productions or Sage Wainwright Productions on his YouTube Channel) is an MikuMikuDance animator, writer, actor, voice actor and amateur martial artist. He's been a big fan of Joe Winko since his previous channel, scarywinkoproductions. He hopes to become a popular YouTube celebrity so he can open many opportunities in his career. He's currently making a live-action Harry Potter fan-series called Draven Carter and a Horror series made with MikuMikuDance, called Sadistic Passion.
Background
Edit
Sage is very playful and goofy, but he's also a total loner. He has asperger syndrome, which is very common in his family. He used to be in public school until he transferred to home schooling in 7th grade due to constant and brutal bullying and low grades.
His passion is to be a filmmaker and martial artist. He also suffers from post-trama stress and anxiety. He's usually very shy around people. He lives with him mom, but he doesn't know what happened to his dad, but he likes to believe that his dad died from a car crash since he was very abusive to Sage when he was very little until he walked out when Sage was only five.
He found Joe winko's previous channel, scarywinkoproductions, in early 2011 and became interested in his content since then. The things they share in common is that they both have autism, they like the shows Ed Edd n Eddy and MTV Scream, they have a passion for video production and that they were always bullied in public school. Sage hopes to make a live action video with Joe one day.
He created an MMD Series called "Sadistic Passion", where some scenes are inspired from Joe Winko's horror films.
Sage is currently 16 years old.
"Hey Guys! SPChannel signing in!"
"This is SPChannel Signing out!"
"Modern Security Sucks."
He's a fan of actress Shailene Woodley.
He's an Ariana Grande Superfan.
He hates Justin Bieber and Kris Jenner
He has mixed feelings towards Ariana Grande's bipolar behaivior, he theoriezed that the reason she licked the donuts in July 2015 is because she's sick of being a vegan and misses eating junk food. He even thinks that Ariana is trying to get out of her contract with her manager with Scooter Brawn.
His favorite video games are Undertale, Five Night's At Freddys, Alice: Madness Returns and LoveSick: Yandere Simulator.
His favorite superheroes are Spiderman and Deadpool, and Sage believes that other Marvel and DC characters are unoriginal garbage.
His biggest fear is to be a YouTuber that would have their dreams taken away from them by insane killers. Which is why that even though she's dead, Asia McGowan is one of his favorite YouTubers.
References
Edit
His YouTube Channel: https://www.youtube.com/channel/UCtc2dGBZPq7Cgb6z8BM3RkQ
Facebook Page: https://www.facebook.com/SPChannel-YouTube-651353798294850/
DeviantArt: http://spchannel.deviantart.com/
Draven Carter Facebook: https://www.facebook.com/Draven-Carter-A-Harry-Potter-Fanseries-465045830262135/?fref=ts
The Creepypasta Journal: https://www.facebook.com/The-Creepypasta-Journal-1444612979136491/?fref=ts
The First Live stream SPChannel starred in: https://www.youtube.com/watch?v=YnhAIQXTwLc
<gallery> Possesed Sage Wainwright and Joe Winko.jpg|An MMD Photo of Sage Wainwright and Joe Winko
Ad blocker interference detected!
Wikia is a free-to-use site that makes money from advertising. We have a modified experience for viewers using ad blockers

Wikia is not accessible if you've made further modifications. Remove the custom ad blocker rule(s) and the page will load as expected.