The Texas Killing Fields
a swampy area in the Texas Killing Fields
Type
Huge Scary Outdoor Country Place in Texas
Existence
Real
Location
Texas (Off I-45)
Status
Open
Appears In
The Texas Killing Fields - Chilling Crimes
The Texas Killing Fields
is an extremely large area of land (approximately 25-acres) off of interstate 45 in southern Texas, between the cities of Houston and Galveston. Between the early 1970s and mid-2000s decades many girls have been found murdered there. The place is described as "a perfect place for killing somebody and getting away with it". It is discussed by
Joe Winko
in his 2016 episode of his crime documentary series,
Chilling Crimes
.
Victims Mentioned by Joe Winko (in Chilling Crimes)
Joe Winko mentions many of the various girls who where murdered and found dead in the Killing Fields. Yet, he does not mention every single one of them. According to the official Wikipedia page, more than 30 females where found dead there.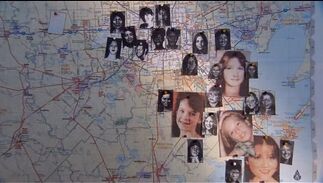 The ones mentioned by Joe Winko in his episode of Chilling Crimes were:
Ad blocker interference detected!
Wikia is a free-to-use site that makes money from advertising. We have a modified experience for viewers using ad blockers

Wikia is not accessible if you've made further modifications. Remove the custom ad blocker rule(s) and the page will load as expected.